‧Caliber:Ø90 mm
‧Bag:50 pcs
‧Case:20 bag
‧Packing:50 pcs / 20 bag , 20 bag / case
‧Quantity:1000 pcs
PLA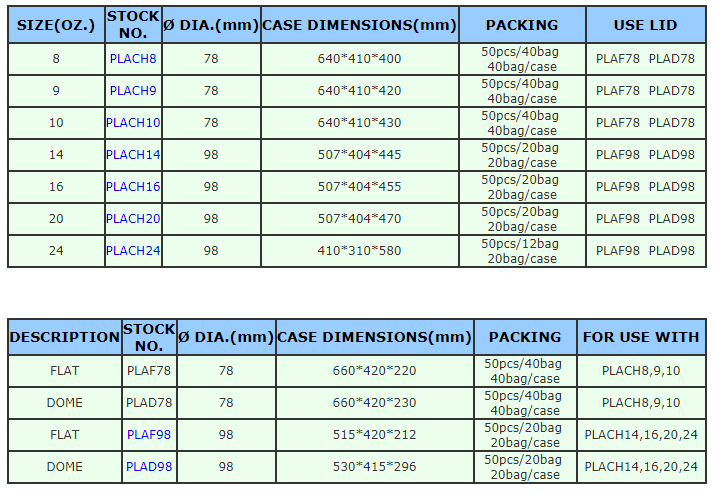 Cheers Cup Co, Ltd. is founded in 2000 and is the first APET cold drink cup's factory in Asia. We adopt high-tech automatic machine from Europe and ourselves technical R&D. In addition, we use the air-conditioning system overall the factory to keep the product's quality and hygiene.

In 2003, to coordinate the government environmental policy, we promote the no pollution, no plastic ingredient and decomposable PLA (Poly Lactic Acid) cup. We will do our best to keep the world be more clean.

In order to satisfy customer's demand, in 2007 we introduce the European equipment again. Besides the original PET and PLA cup, there are also PS lid (use for paper cup only) and other plastic material containers to enlarge our various products.
關鍵字標籤:PET杯蓋,PLA杯蓋,PS杯蓋,CPLA杯蓋,PET DELA杯蓋,其他塑膠材質容器,耐熱杯蓋,沙拉碗,其他塑膠材質容器